---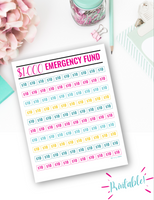 Sale
Love that it's practical
Definitely will be using this. On the notes I put down my short term and long term goals so I can keep focused.
I simply love it, there is nothing that I would change about.
Love how i is put together it allowed me to learn how to use it fast. I have been looking for somethin like this. Thank you!
Emerge. Fund sheet
I liked the layout very much, tyvm guys!
THANK YOU!
This came out just in time..I started using it this week and it has helped me be more accountable in saving for emergencies..
Emergency Fund Tracker (Printable & Digital)